When Russell Camp, Vice-Chief of Communications for Video and Audio Services, as part of that new role, was given the duty to produce a Final Mission video for the Virtual "Mini-International Conference (IC)" – he sought out volunteers from his chapter for help on the flag folding detail.

On Saturday, 25 July 2020, after very limited planning, the chapter answered that call, within the limitations of current social gatherings. Certainly an odd assembly and away mission detail, but one where we certainly did our best. Given three hours in an empty hotel meeting room, the crew assembled, practiced and were recorded for this worthy effort – while wearing masks!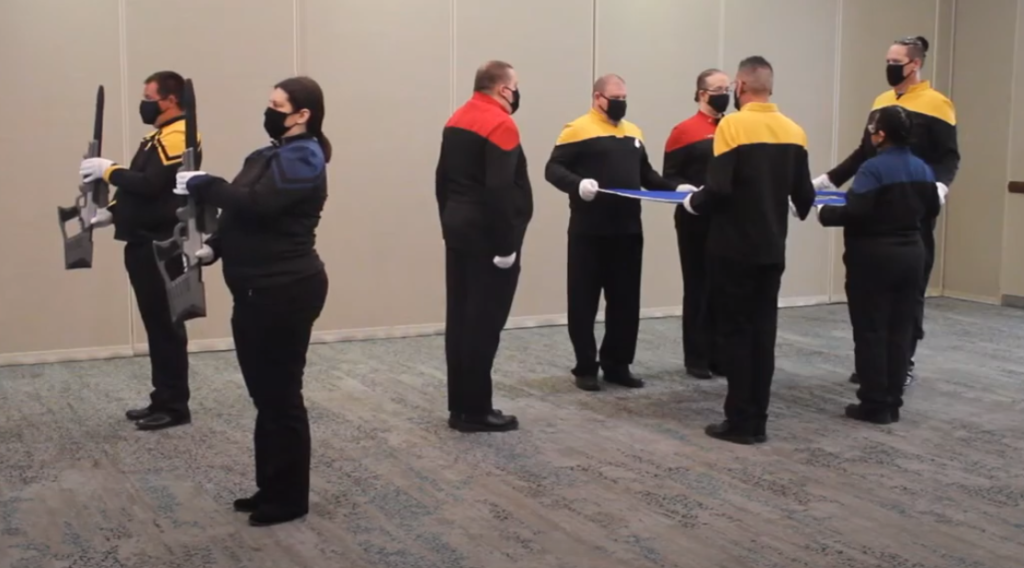 For me, having trained and performed in these Final Mission details in the past, it was the differences in this particular event that stood out. No regional Summit or International Conference surrounded us, so that energy of being totally immersed in Trekkie fellowship was lacking. Our assembly was further limited by the needed assistants (camera crew, etc.) and gathering restrictions. Further, it was odd focusing on 'hitting marks' for the cameras vs. performing for a live audience. However, we got the work done in about the same time as would be available for a crew at an IC to train – so that felt 'authentic'. Gotta have a time crunch, else an honor guard just gets too comfortable!
Many in this mission had never performed in any honor guard details, SFI or otherwise, but came together to ensure it was accomplished for all of STARFLEET, and in memory of those who have passed this year.
A challenging detail, in 'interesting times' – but the USS Battle Born crew did all they could to give all of STARFLEET a heartfelt performance; and adding just one more thing that this crew has "been there and done that" – and as always, we'll be back for more.